Slab Drying Services in Arizona
Keep your concrete slab dry with expert slab drying solutions and prevent vapor transmission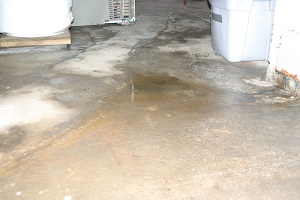 Water damage from underneath. Water can leak into foundations from the soil and cause significant problems.
Do you have a wet slab or damp foundation walls? Water underneath your home can lead to several problems, which is why it's important to ensure that you have a dry, clean, and healthy environment.
If you have any issues with water on your concrete slab, call Arizona Foundation Solutions of Tucson for expert slab drying services. We provide complete slab drying and water prevention solutions throughout Arizona, and we can help you keep your concrete slab dry. Call us today or click below to get started with a free estimate!
Causes of wet concrete slabs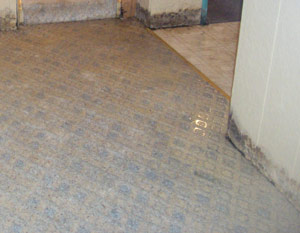 Protect your floor. Water seeping onto the slab can damage your floors and walls.
Soil carries significant amounts of moisture naturally, and changes in the amount of moisture causes the soil to contract or expand. This process can exert quite a bit of pressure on foundation walls.
These conditions also allow for water to enter the foundation from the soil. Water enters foundations for a number of reasons, including excess moisture in placement of concrete, excess soil moisture, accumulation of moisture from clay suction, or moisture vapor from default sub slab vacuum from the stack effect.
When moisture does enter the foundation, it can cause a number of problems. Moisture can pool on concrete slabs, damage wood and other organic materials, and eventually cause structural or health problems. Another issue that this causes is vapor transmission. Vapor transmission is caused by excess water or moisture that comes up through the concrete or slab.
Problems caused by excess moisture and wet slabs
Mold growth: If a wet slab goes unnoticed or untreated, mold growth can develop under the floor and behind the walls.
Tile delamination: Water on the slab will weaken the seal between the tile and the floor and cause the tile to come loose.
Uneven floors: Water can cause hardwood floors to buckle, crack, or become uneven, creating an unsightly appearance and potential safety hazard.
Damage to building materials: Water seeping onto the slab can easily damage building materials like wood and drywall, potentially causing structural damage.
Odors and health risks: Excess water will usually cause a musty smell, while mold growth can lead to several health problems for you and your family.
A slab drying solution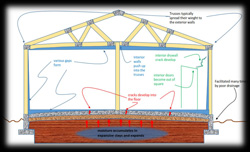 The natural movement of the soil around your foundation can create openings for water to seep onto your slab.
Traditional methods for slab drying involve removing all floor coverings, cabinetry, and fixtures, then treating the surface of the concrete with sealer. Unfortunately, this process is expensive and problematic. At Arizona Foundation Solutions of Tucson, we have developed a much better solution for drying concrete slabs.
Our MoistureLevel Smart Foundation System uses the technology of proven radon mitigation systems to provide an exceptionally effective slab drying technique. Our MoistureLevel system uses a fan and plastic pipe to create air movement and suction on the under-slab soil.
By installing the MoistureLevel Smart Foundation System, you will dry the slab from the bottom. This process interrupts moisture transfer from the soil to the slab while simultaneously removing excess moisture from the slab from the bottom side. This installation is fast and easy, and it will run in perpetuity for the cost of running a lightbulb.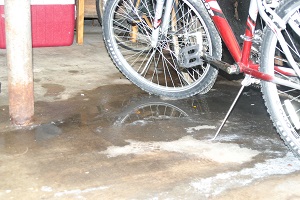 Prevent property damage. A wet slab can lead to property damage in your house or garage, so don't wait to get a solution.
Solve your slab drying problems with Arizona Foundation Solutions of Tucson
If you need a slab drying solution for your home, look no farther than Arizona Foundation Solutions of Tucson. Our slab drying system is second to none, and we will give you an effective and long lasting solution to ensure that your home is dry, clean, and safe.
We offer free estimates on all our work, so call or email us today to get started. We proudly serve throughout Douglas, Sierra Vista, Tucson, Marana, Green Valley, Bisbee, Benson, Fort Huachuca, Sahuarita, Willcox and the surrounding areas.