Foundation Heave Repair Contractors in Arizona
Learn how foundation heave affects your home in Greater Tucson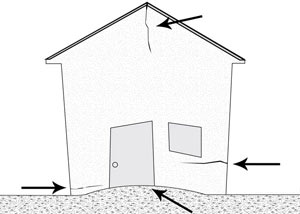 Foundation upheaval can lift an entire structure, but more often it forces parts of a foundation or slab upwards, while other sections remain stationary, causing cracks and other damage.
The problem:
Your foundation or slab floor is moving upwards, leading to cracks in the walls and floors of your home.
Telltale signs:
Cracking on inside walls (common)
Cracking on outside walls (rare)
Cracks on the concrete floor slab
Displaced or tilting slab sections
Cracks joining together to form a triangle
How we can fix it:
Getting the correct diagnosis is essential for foundation heave. Heave and settlement have similar symptoms, but very different solutions. In fact, providing the underpinning solution typical to resolving a settlement issue is counterproductive to an expansive clay soil issue or heave. Applying the wrong solution stresses the structure and causes even more damage.
Arizona Foundation Solutions of Tucson will provide you with the right diagnosis the first time and provide quality repair services. We can help you avoid costly mistakes and identify the right solution for your home. Although we see at least 80% of homes with some form of heave from expansive soils, we can help prevent major damage. We can also install a moisture management system to help regulate the moisture level of the soil beneath your foundation.
For more information about our

MoistureLevel Smart Foundation System

, click here.
What Causes Foundation Upheaval?
Heave occurs when underlying soils expand or swell and force the foundation or slab upward. Heave is more common with slabs than foundations because slabs have less weight to resist heaving forces. Unless there is a long period of drought, heave most commonly occurs within the first few years of the building's construction.
Slab and foundation heave are most commonly caused by these three forces: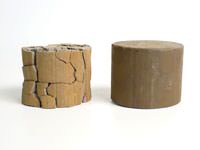 Expansive Soils
A house built on soils with high clay content will be susceptible to heaving forces because clay-rich soil expands significantly when it gets wet.
Soils often dry out shrink during the excavation for a foundation, as shown in the photo at right. After construction, clay-rich soil that gets soaked during wet spells can cause heaving problems while also damaging foundation walls.
---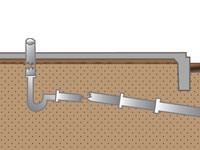 Plumbing Leaks
Leaks or breaks in plumbing lines that run underneath a concrete slab or through a foundation wall can deposit moisture underneath the foundation and slab. This moisture can be from supply lines, waste lines, or even your home's HVAC system.
The extra moisture will cause soils under the foundation to expand and push up against the foundation. This will eventually lead to problems like cracks.
---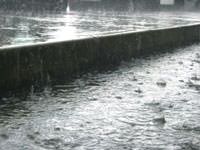 Prolonged Or Heavy Precipitation
Too much rain and not enough drainage is a bad combination for your foundation. This extra moisture can come into contact with expansive soils and result in foundation heaving problems.
What NOT To Do: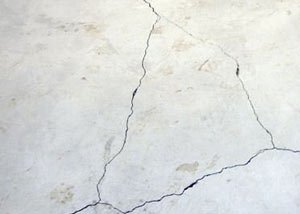 Cracks on caused by foundation heave are unique and will involve multiple cracks coming together at a point or in a closed loop.
Before any repairs are conducted, it's essential to be sure the problem is foundation heave. While heave is the opposite of foundation settlement, the symptoms are often similar.
Misidentification of these two foundation problems is common, and to the untrained eye it can be very easy to mistake one for the other. Unfortunately, the solutions are very different, and applying the wrong one will only serve to make the problem worse.
The experienced foundation repair contracors at Arizona Foundation Solutions of Tucson can inspect your foundation issue and identify the cause. We will then work with you to design a solution for your specific problem.
Eliminate foundation heave in your home
At Arizona Foundation Solutions of Tucson, we have the tools and training available to fix foundations and slabs that are experiencing problems with upheaval.
We developed the MoistureLevel Smart Foundation System to alleviate expansive soil problems beneath concrete slab foundations. Using the technology behind radon mitigation, we install a fan and plastic pipe to create air movement and suction on the under-slab soil. Introducing outside air to the damp soil causes evaporation to take place, making it possible to reduce soil moisture content and damaging soil expansion.
We offer free foundation and slab heave repair inspections throughout Arizona. Call us today at 1-520-348-2052 to get started with a free, no-obligation estimate in Douglas, Sierra Vista, Tucson, Green Valley, Marana, Benson, Bisbee, Willcox, Fort Huachuca, Sahuarita and nearby.